Department of Computer & Communication
The Department of Computer and Communications Engineering was approved in 2011 to offer courses in Computer and Communications Engineering in the Abubakar Tafawa Balewa University, Bauchi. 
The Department recorded its first intake of undergraduates in the 2011/2012 academic session.  It currently has five sets of undergraduates at 100, 200, 300, 400 and 500 Levels numbered: 35, 50, 38 and 09 respectively, which makes a total of 132 undergraduates students.  More than 90% of the students admitted into the Department of Computer and Communications Engineering undergo a one year pre-degree programme in Faculty of Science of this University. A few of them though come in by Direct Entry into 200 Level of the Department.
Prof. O. U. Okereke, a Professor of Communication Engineering and some other prominent Lecturers of the University were some of the key staff who helped to start the Department. The syllabus to be used from 100 Level to 500 Level by the Department for the undergraduate studies was developed based on the recommendation of the National Universities Commission (NUC).
As Computer and Communications Engineering was formed from parts of Computer, Communications, Electrical and Electronics Engineering, the courses offered from 100 to 400 Levels are courses much related to Computer and Communication Engineering.
To train Engineers in the fields of Computer and Communications Engineering with high academic standard coupled with adequate practical experience, such that they are able to meet challenges of a National Economy and sufficiently tackle common day-to-day engineering problems.
To produce graduates with broad-based knowledge in general studies, management and humanities, all of which enhance their understanding, contribution and relevance to the society.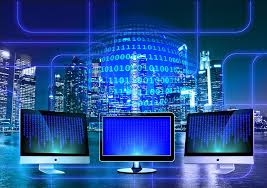 The philosophy of the Department of Computer and Communications Engineering is in conformity with the overall philosophy of the university in that being basically a university of technology.
The training of the students is to produce graduates that possess sound theoretical and practical skills that would make them self-reliant, research and academic oriented, confident and competent to contribute meaningfully to the socio-economic and technological advancement of the nation.
They must be capable of being abreast of the global changes in technology in the field of computer and communications engineering and allied fields by pursuing self-improvement programmes.
As the world is currently undergoing industrial revolution in all sectors of the economy, graduates of the Department are equipped to excel in the areas of application of Information and Communication Technology (ICT) to the solution of developmental problems.
There are three admission procedures into the Department as follows:
Unified Tertiary Matriculation Examination (UTME)

Candidates should posses passes at credit level in senior  secondary certificate final year examination or GCE "O" Level in five subjects including English Language, Mathematics, Physics, Chemistry and any other science subject at not more than two sittings. In addition to this the applicant should meet the necessary UTME cut off point.



Direct Entry (DE)

For direct entry into 200 Level, candidates must have passes in Mathematics and Physics at GCE "A" Level or its equivalent. ND and HND with a minimum of upper credit pass are eligible for admission. Candidates must also meet the "O" Level requirement of five credits.



Admission through Remedial ProgrammeThe University operates a remedial programme that prepares candidates for admission such that candidates must pass UTME at cut-off points and also successfully remedy relevant subjects as specified in the UTME and as stipulated by the University for Engineering based courses.